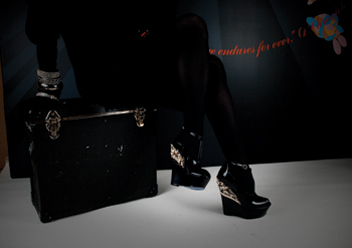 Luxury ladies footwear, launched at London Fashion Week in February 2009 has since, won the hearts of the most prestigious UK and International buyers & press. Playing around diversity of forms and structures, colours and materials, focusing on detail and perfection in execution, Tanja S London unveils a unique, yet sophisticated approach in luxury market. Pivoting around the new constructions, the concept has several extravagant points, mostly reflected in double wedge heel, encrusted with Swarowski crystals and metal 'Art Deco' cover, individually designed and beautifully made by the best Italian shoe makers on the south-west coast of the Adriatic Sea.

Tanja S London iconic double wedge boots and sandals are regulars on the most glamorous celebrities' wish lists worldwide. Thandie Newton, Katie Holmes, Lady Gaga, Emma Watson, Sarah Harding, Audrina Paltridge and many more celebrities and celebrity stylists are regularly updated on all TSL collections and future projects.
The new Spring/Summer 2012 collection brings a pure sensation! The super luxury world of light and colours reflects the upper stages of spiritual amusement which makes the high heel walk an easy, yet unforgettable experience. The matching capsule handbag range is an elegant and subtle wit, just as a moment of illusion ready to provoke the wider imagination.

Tanja S London is loved by many UK and International glossy magazines and daily newspapers, such as Vogue UK, Harpers Bazaar, Grazia UK & International, In Style, The Times, The National Dubai, and many others. Tanja S London is featured in the new shoe book 'Shoes – Objects of Desire', alongside with the most appreciated and worldwide recognized shoe designers. It is published by Monsa, Barcelona, October 2011.

---
STOCKISTS




TEKNOPOLICE (PSYCHEDELIA co.ltd)
Osaka, Japan
www.teknopolice.com





@ThenAndNowShop
London, United Kingdom
www.thenandnowshop.com





STYLE LAB, Pop-Up
Lesic-Dimitri Palace
Korcula, Croatia
www.the-style-lab.com